Reducing your body weight by 1% per week is an achievable goal. OK, it's a stretch, but not beyond reach.
The beauty of the program is that it gets easier the longer you last.
Ideal weight
It's hard to say what anyone's ideal weight is. Most men would look pretty good when below 20 percent body fat (PBF). At 25% they still have a muffin top: they're still sucking their abdomen in when they walk past a mirror or shop window!
At 15% body fat men look sharp but you wouldn't win a marathon or the Tour de France very often if you were much more than 6% body fat.
For women aiming to get closer to their ideal weight, 30% percent body fat is a reasonable target, but it depends a lot on breast development. Chiselled and under 25% is achievable for female athletes and women who are regular vigorous exercisers.
Eat less
Eat less of the foods that aren't good for you, the garbohydrates (yep, that's a 'g' not a 'c')
The garbohydrates are the junk foods, food manufactured with combinations of fat, flour and sugar. These are the foods high in energy density, foods with more than 250 Calories per 100 gms (1000Kj/100gms), and we love them: chips, chocolate confectionary, sugar boosted drinks, wine and beer, cake, biscuits …
With a diet based on meat, fish, chicken, fruit and vegetables, not only are you going to lose weight you'll improve your health and metabolic function. (If you're a vegetarian you'll know what to substitute for the meat, fish and chicken.)
Drink more water and green tea. You won't feel as hungry.
It's all outlined in the Hourglass Diet.
Exercise more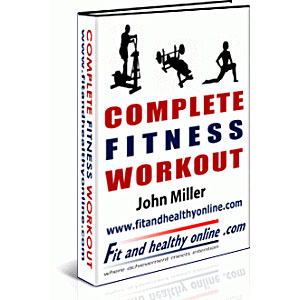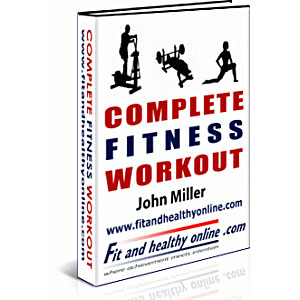 Not only is exercise (along with diet) the foundation of good health, it's going to burn off excess fat. The benefits of exercise are legion.
I recommend the Complete Fitness Workout. (Along with a flexibility workout) it includes the two great fat burning factors of fitness – aerobic fitness activities and strength activities.
Read more about the Aerabyte aerobic fitness prescription and set yourself a weekly target of aerabytes.
Don't forget strength training.
In the process of strength training you burn up more energy and keep burning it up for sometime afterwards.
The greater your muscle mass the more energy you burn during the day.
Targets
Here's a set of 1% weight loss targets. This is what the 1 percent weight loss spreadsheet looks like.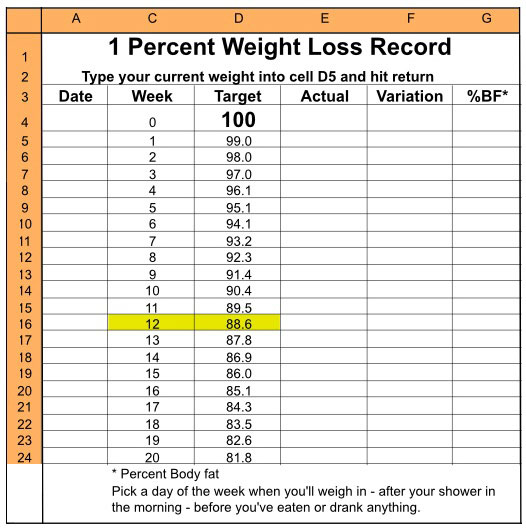 Initially run the program for 12 weeks and see how you go. If by that time you haven't reached your target weight just keep going. The longer you're involved the easier it becomes.
Focus and discipline
Sure it will take a bit of discipline but I know you've got the discipline to lose 1% of your weight each week for 12 weeks. And remember, with every passing week it gets.

You may need an inner mental training program to assist you in your resolve. We've got it for you in the form of the 'I'm Getting Closer to My Ideal Weight' audio file.
Keeping yourself honest
In the meantime stay tuned, highly tuned and set yourself the weight loss target of 1% per week until you've reached what you reckon is your ideal weight.
Introducing our new ebook "1 Percent Weight Loss" which will help you discover how you can reduce your body weight by 1% per week. The beauty of the program is that it gets easier the longer you last. Click below to add to cart. Your purchase includes an excel spread sheet to help your plan and chart your progress.