Discover the Hourglass Diet Revolution
The Hourglass Diet, a revolutionary new way or eating designed to
nourish the cells of your body and
maintain an ideal weight.
This indeed is a revolutionary new way of looking at your diet.
Unlike other diet books, the Hourglass Diet is not padded out with recipes. Its focus is on the principles of eating wisely in a junk food world.
Once you know how to eat more of the foods that nourish your body and less of the foods that just fill up your stomach, the meals will look after themselves.
Here's what the revolution is all
about. You haven't seen
this model before.
Good food at the top,
junk and poison down the bottom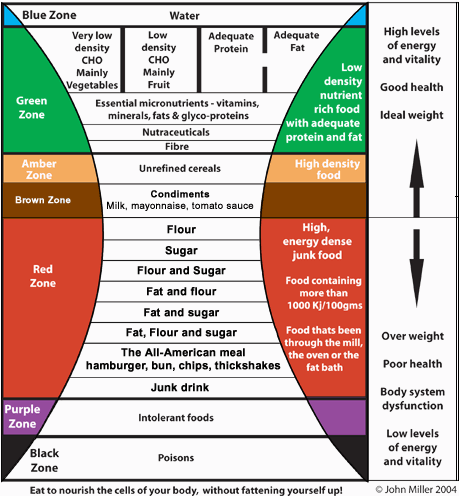 So what's different about the Hourglass Diet?
Here are twelve good reasons why you need to get your own copy of the Hourglass Diet.
1. It puts to rest the usefulness of the diet pyramid concept.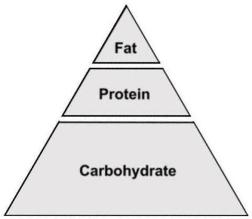 The pyramid doesn't work in a sedentary society. It contains too much junk food masquerading as good food. It's too reliant on flour-based foods masquerading as cereals.
Designed by the flour and milk industries the pyramid has passed its use-by date.
2. Junk food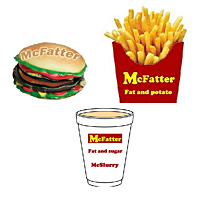 If you're going to avoid junk food you need to know what it is. I've got the best definition of junk food you've ever seen. It's food that's been through the mill, the oven and the fat bath. It's much of the food lurking on supermarket shelves, in every gas station and newsagency.
3. Garbohydrates: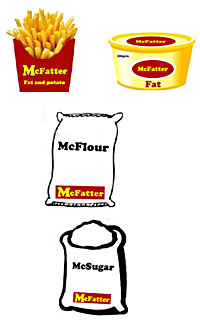 You won't have heard of the term 'garbohydrates' before. It's a new word coined to describe the high density refined carbohydrates, flour and sugar, and the mix of junk foods that are made with them.
Flour
Sugar
Flour and sugar
Flour and fat
Fat and sugar
Fat, flour and sugar
Fat, potato, flour and sugar
4.  Glycemic Index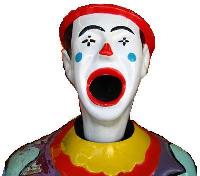 I'll prove to you that in the grand scheme of healthy eating, the glycemic index is a sideshow.
The low GI bar has been set too high. It doesn't make the distinction between good food and junk food.
I've reset the index so you can avoid eating the foods that play havoc with your insulin metabolism and fatten you up.
5. You can't satisfy the inner hunger by eating.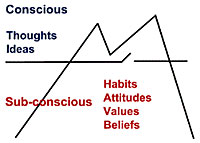 Neither can you starve yourself back to an ideal weight using willpower alone. Any diet that doesn't tackle the psychological issues around healthy eating and weight loss is selling itself short.
Discover how you can change some of the habits, attitudes values  and beliefs that are locked in your subconscious mind and stopping you from eating wisely.
6.  Psyche yourself up

If you want to psyche yourself up to eat wisely you'll need to program your subconscious using the 'I'm getting Closer to My Ideal Weight audio file.
It comes with the ebook. It's an essential element of the Hourglass Diet program.
7.  The law of too much and too little
You'll learn about the law of too much and too little. What do you eat too much of and what do you eat too little of?
What do you need to eat more of and what do you need to eat less of?
Pretty simple really, once you make the distinction between good food and junk food.
8.  The experts encourage you to eat more bread.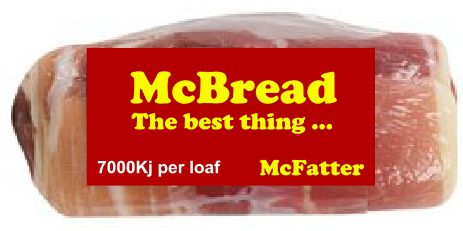 I knock that theory into a cocked hat. Feeling tired?
Get headaches? Bloated? Trousers too tight? Can't lose weight? Take the no-wheat flour challenge and see what happens.
9.  Want to know the whys and wherefores of getting more fibre into your body?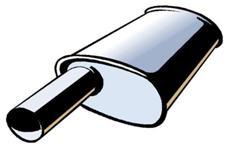 I've got just the recipe and it comes with a healthy breakfast.
If you've got a problem with your exhaust pipe, you'll need to read this chapter.
10. The marriage of Fat and Skinny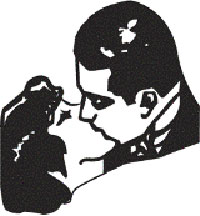 You won't believe this story about the wedding of the one of the world's largest junk food manufacturers to one of the world's largest weight loss companies.
It's a marriage made in heaven. The cause and the solution. The ecstasy and the agony. The fat and the thin. For richer and richer.
11. How to eat a decent breakfast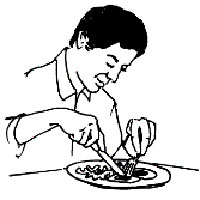 If you're going to set yourself up for the day you'll need to read the chapter on 'How to eat a decent breakfast.' The experts either want to fill yourself up on flour and sugar or eat like a sparrow. I'll show you several types of breakfast – the hot and the cold – that will fill you up without weighing you down.
The fat police have just about removed the hot breakfast off the tables of the Western world.
12. The cardio-diabesity diet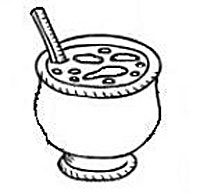 In one week, the cardio-diabesity diet will kick start your metabolism into the Hourglass Diet way of eating and help you to release your attachment to the garbohydrates. Is it asking too much to stay focused for one week while you reset your metabolic clock? I don't think so.
The Hourglass Diet, Foundation for Healthy Eating
A principal cause of diet-related body system dysfunction is a diet that's too high in energy and too low in essential nutrients.
As Jean Nidetch said, if you're over weight 'you're not eating enough; of the right food at the right time.'
The good news is that if the body has become compromised by poor food choices then there is a good chance that the body's recuperative power can be stimulated by a diet of good food choices.
Have Another Think
If you think the food you're eating is good, you might have another think coming. The junk food industry and those in its sway have made a compelling case for you to eat more manufactured food and more fast food. In fact it's a juggernaut, a leviathan an irresistible force that's perverted the course of healthy eating and sent millions of people into the surgery.
How to avoid the toxic way of life
Of course there is one other nutritional problem and that's the amount of toxicity we pour into our bodies. Pesticides, herbicides, fungicides, preservatives, flavourings, colourings, emulsifiers, surfactants … Add large doses of aspartame, sugar, alcohol, caffeine and panadeine and you could end up in a right-royal mess. Getting it out is the hard part and while it's in there it wreaks all manner of havoc.
Once you know the difference between good food and junk food you're set for healthy eating. You don't need a book padded out with recipes.
Eating wisely in Western society is not all that easy because most of the nutrition scientists in the world are employed by multi-national food companies, heating and belting the hell out of good food in an effort to make it taste better and digest quicker.
Another word about Junk Food
What I've got for you is a definition of junk food that will have you instantly recognise it when it comes your way. There's a lot of it out there, some of it cleverly disguised by foot technologists and their friends on Madison Avenue.
The scientists are being egged on by loyal consumers who've been seduced into the high fat, high flour, high sugar way of life and are now so addicted to it they have almost reached the point of no return.
Stomachs are being filled to over flowing with junk.
The Hourglass Diet has been designed to bring some sanity back into healthy eating and explain in simple terms which foods to eat more of and which to eat less of.
It's designed to help you nourish the cells of your body and maintain an ideal weight.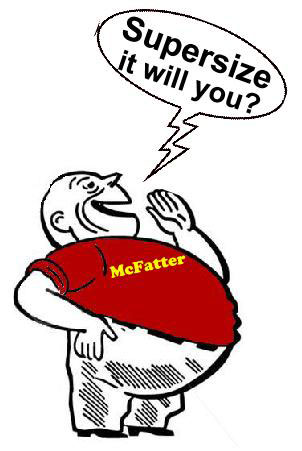 Frank McFatter cracks the Fat Code
When you purchase the Hourglass Diet you'll also receive a free copy of Frank McFatter's book, 'Eat and Grow Fat.'
Here's a list of chapters.
Living in a junk food world
The garbohydrates
Faster fast food
Nestling up to fat, flour and sugar
Cereal offenders
The breakfast biscuit hoax
The Kelloggification of our diets
The McFatter value meal.
You can't live on bread alone
Heart Foundation does its bit for junk food
The junk food cross of disapproval
Cracking the fat code
American Dietetic Association speaks from both sides of its mouth
Frank has cracked the fat code and he'll help you crack it as well.
So Here's What You Get – all for $23us – The Hourglass Diet – ebook –
Your guide to eating wisely in a junk food world.
I'll help you understand the principles behind eating to nourish the cells of your body and not to just fill up your stomach.
I'll show you how to make the distinction between good food and junk food.
This is your guide to avoid being suckered by marketers of junk food masquerading as good food.
And You Get …
BONUS 1 – the audio file I'm Getting Closer to My Ideal Weight

This audio relaxation and inner mental training audio file is an important component of the Hourglass Diet.
It's all well and good knowing what to eat more of, what to eat less of and what to avoid altogether, but unless your sub-conscious mind is programmed to keep you focused on eating healthily it's going to be one heck of a struggle for you to reach your diet and weight goals.
Your subconscious is your most powerful asset. If you want your subconscious to also be your best friend, listen to the I'm Getting Closer to My Ideal Weight' inner mental training program every day for 21 days.
BONUS 2 – the ebook Aerabyte Aerobic Fitness training  System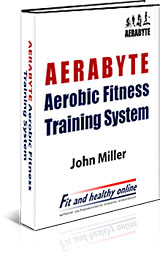 It's a tough assignment attaining and then maintaining your ideal weight if you don't have a good aerobic fitness training program.
Both diet and exercise are the foundations of good metabolic health.
In the Aerabyte book I outline an exercise prescription based on time and effort.
BONUS 3 – the ebook Eat and Grow Fat
by junk food technologist, Frank McFatter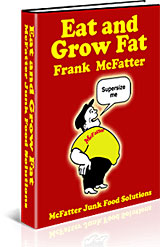 Eat and Grow Fat will provide you with an insight into what the manufacturers, promoters and apologists of manufactured food are doing to pervert the course of good nutrition.
The manufactured food industry stands as one of the pinnacles of man's achievements; the ability to instantly satisfy people's hunger. It is a powerful, irresistible force imbedded from bottom to top in Maslow's hierarchy of needs.
Written by world famous junk food technologist Frank McFatter, Eat and Grow Fat is a companion volume in the Hourglass Diet series of ebooks
BONUS 4 – the ebook The Glycemic Sideshow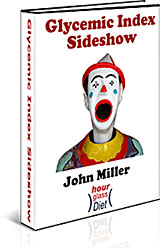 You've probably seen the books – where the words 'revolutionary' 'new' and 'glycemic index' all appear in the same paragraph.
Let's get something clear from the outset. The concept of the glycemic index is not new and it's certainly stretching the definition of the word to say that it's 'revolutionary'.
Outlined are ten reasons why the GI model, (concept or theory) about how to eat wisely is a side show.
The first and most significant reason is that the glycemic index bar has been set too high.