Quit smoking quickly, painlessly and without expensive drugs.
This 8 step program sets you up to successfully break your smoking habit, all for the investment of less than a couple of packets of cigarettes.
8 steps to being smoke free
In a nutshell, the program is based on the following 8 steps.
Step 1 – pick your date – Freedom Day
Chose a date 21 days – or less – ahead when you will have your last cigarette. I suggest you pick a day from now that's as many days away as the number if cigarettes that you're currently smoking each day.
Step 2 – make a list
Make a list of the reasons why giving up smoking is a good thing to do.
Step 3 – get support
Frank Woolworth said 'I never got anywhere while I tried to do everything on my own.'
Step 4 – set rules
Set some rules for smoking – like not smoking inside the house, not smoking in the car, not smoking before morning tea time …
Step 5 – count your smokes
Over the period between when you make your decision and your 'freedom from smoking day', keep a record of the number of cigarettes you smoke each day. Aim to smoke one less cigarette each day. By the time your Freedom Day comes around you might have smoked yourself out. Each day start smoking half an hour later and finish smoking half an hour earlier.
Step 6
Divert your attention from smoking. Start exercising, going to the movies, going to bed early …
Step 7 – F-day
When your Freedom Day arrives, you'll be programmed to stop smoking. Invite some friends or members of your family to watch you smoke your last two cigarettes.
Step 8
Write and tell your Minister for Health you want a rebate on your health insurance!
What's unique about the How to Stop Smoking program
'How to Stop Smoking' is an essential tool for anyone who wants to stop smoking. I'm going to give you the tools you need and support you all the way to becoming smoke free.
If you're like a lot of people, stopping smoking is a tough assignment and you'll need all the support you can muster. Some of the support will come from your family and friends. Some will come from your sub-conscious mind. Some of it will come from the information you'll receive from the 'How to Stop Smoking' ebook and audio file.
If you're going to stop smoking you'll need to:
be assured of the benefits of becoming smoke free.
examine why you've been smoking and what it's doing to your body and your life generally.
understand the costs and benefits of not smoking.
develop a strategy to become smoke free with the assistance of

exercise
healthy eating
distraction.

put the strategy into action.
I can help you do that.
Smoke free
The starting point of the 'How to Stop Smoking' program is a presumption that
normal healthy people don't have a need to smoke
you know why smoking is bad for you
you have a fair idea why you started smoking and why you're still smoking
you are aware of the costs and benefits of being smoke free
you'll have considered what you'll have to give up if you stop smoking. ie. What will be missing in my life? What will I have to face?
you don't need shock tactics to convince you to change your behaviour
you have made a personal commitment to giving up smoking
So if you're fair dinkum about giving up smoking, confirm your intention, put your money (not your cigarette) where your mouth and get your copy of the 'How to Stop Smoking' program.
Learn how to program yourself to stop smoking
As human beings we're all programmed differently. Therefore each of us is programmed to react differently to the same event, often in a quite predictable way. For some, the gentle pull of a string is the trigger to lighting up a cigarette.
In the 'How to Stop Smoking' program you'll learn ways in which you can program yourself to stop smoking. The program will introduce you to an inner mental training program using an audio file you can download with your order.
It's designed to get your sub-conscious mind in synch with your conscious mind.
In any competition between conscious and unconscious minds, the unconscious is likely to win. I'm going to help you to program your sub-conscious mind to successfully steer you in the direction that leads you to stopping smoking. The stronger your subconscious urge, the easier it will be to stop smoking.
If both your conscious and subconscious minds believe you're a smoke free person, you'll become a smoke free person.
Once your sub-conscious mind has a clear picture of yourself as a fit and healthy person, smoke free, living the lifestyle and doing all things a smoke free person does – there is a high likelihood you'll be smoke free. Read more about How You Can Stop Smoking
So here's what you get for $15.00us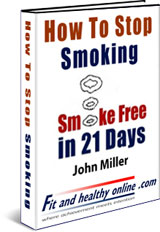 The Smoke Free in 21 Days ebook.
Your guide to working out why you want to give up smoking and then using a step by step, systematic system for giving up.
Imagine, in 21 days or less you can be smoke free. The money you've been spending can go back into the housekeeping or on something that not only gives you pleasure but doesn't ruin your health.
You've put up with the prompting from your loved ones and friends. Here's a painless way to become smoke free, painless – and make everyone happy.
Bonus

The bonus audio file is an important component the Smoke Free in 21 Days program.
It's all well and good knowing what to do, but unless your sub-conscious mind is programmed to keep you focused on achieving the smoke free state you'll struggle to reach your goal.
Your subconscious is your most powerful asset in this process of breathing only fresh air. If you want your subconscious to also be your best friend, listen to the 'I breathe Fresh Air' inner mental training program every day for 21 days.
You can be smoke free in 21 days.
The investment in your heath
$15.00us
Click Below To Add To Cart