High blood pressure is one of the key symptoms of personally-generated metabolic dysfunction. It's telling you you're not in good shape. What's more it can creep up on without you knowing it. If you've got a good doctor you won't get out of the surgery without it being measured
If you know you've got high blood pressure I recommend you get your own machine and check it regularly, like at least twice a day. And then move heaven and earth to do what ever it takes to lower it.
The quickest way to lower it to the recommended 120/80 is to take a drug. Problem solved?
Nope, it's problem masked. You know that otherwise you wouldn't have ended up on this page.
Caveat
If your blood pressure is dangerously high, then of course taking medication is the right move, otherwise you run the risk of stroke and cardiac dysfunction. But don't let the medication lull you into a false sense of security. Treat it as a call to get yourself back into good metabolic health. When you're back in rude health you won't need the medication.
Apart from eating more of the foods that are good for you, you're going to have to eat less of the foods that are not good for you – like flour and sugar.
You'll need a vigorous exercise program to wash out of your body the chemicals you yourself produce when you're stressed.
You'll need a relaxation and meditation program to relax muscles and blood vessels within the very core of your body.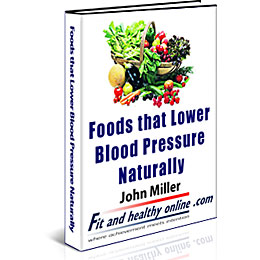 Here's a quick précis of the topics covered in the 'Foods That Lower Blood Pressure Naturally ebook.
Reduce your sodium intake and judiciously increase your intake magnesium, potassium and calcium.
People with hypertension are consistently found to be lacking in magnesium, and diets naturally high in magnesium, potassium and calcium are known to reduce BP substantially (Nutr Health Aging, 2001; 5: 144-9).
Increase your vitamin intake, particularly vitamin C. Your blood pressure could drop by close to 10% in a month. The best source of vitamin C? Try Citrus fruit. The second best source, vitamin C in the form of a pill or powder.
Increase your intake of Coenzyme Q10, a naturally occurring enzyme with dramatic effects on hypertension. In a study conducted at the University of Texas during the 1980's, 400 people with hypertension took a daily does of CoQ10. The effect on blood pressure was dramatic, with 97 per cent of these involved in the program being able to stop taking their conventional blood pressure lowering drugs (Mol Aspects Med, 1994; 15 [Suppl]: 165-75).
That's not hype. It's commonsense treatment.
Eat more vegetables, preferably raw. With cooking you may find the bulk of the nutrients are poured down the sink. Think of adding some of the less popular vegetables like beetroot, parsley & asparagus, garlic and celery to your diet. Every point you can lower your blood pressure counts. With celery the effect can be dramatic.
Eat more fruit You don't need me to tell you that you need to eat more fruit. But it does need to be said. If you're like most people it's easier to grab a biscuit, a slice of bread or a piece of cake when you feel hungry than cut up a piece of fruit? (I read somewhere that if you're a man you're more likely to eat fruit if someone cuts it up for you! Maybe cutting it up for yourself is the next best thing.)
The way I get round it is to make a blended drink in the morning and put it on my muesli – pear, apple, carrot and sometimes celery, watermelon, guava or cucumber.
If I told you that drinking Aloe Vera could drop your blood pressure by 10 points would you be interested?
Eat more dark chocolate. Whilst it hardly sounds like a good recommendation, dark chocolate contains ingredients that dilate blood vessels. The problem with most chocolate bars is they contain 50% sugar and without it the taste is bitter. (In fact, chocolate didn't take off until the British started importing vast quantities of sugar from the Caribbean.) So, if you're going to eat chocolate, find the darkest chocolate with the least amount of sugar. Small amounts of dark chocolate may make for a small decrease in your blood pressure.
There's a section in the book extolling the blood pressure lowering qualities of cinnamon.
That's just for starters.
'Foods That Lower Blood Pressure Naturally' contains a detailed outline, documented by research findings of some of the foods that nature has designed to help lower your blood pressure.
Keep in mind that changing your diet is not the only way to lower your blood pressure – but it's still something you'd be advised to do.
'Foods That Lower Blood Pressure Naturally' comes in an ebook (pdf) format and is instantly downloadable.
For $4.95 US it's a modest investment in enhancing your metabolic health. You'll more that recoup the investment in less visits to your doctor and your chemist.
Wait, why not upgrade your order
to include BONUS ebooks for only an extra $5.00
for a Total of $9.95 US
Please note, To add your bonus, first add the main ebook to the cart then click below on add bonus
Extra programs included are:-
How to Lower Blood Pressure Naturally
How to Relieve Stress
21 Day Aerobic Fitness Training Program
Mp3 Audio "I'm Becoming More and More Relaxed"