If you're unhealthy and you want to work out how to get healthy, there are a few places to go. The first place is to your doctor. He or she can work out exactly where you fit on the health, fitness and wellbeing continuum.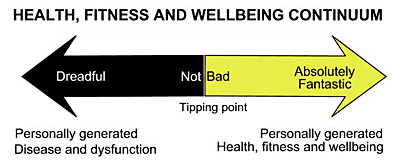 If you're really in bad shape you'll need to take the medical route.
Because the foundation of good health is fitness, you also need to go to your fitness practitioner to find out how aerobically fit, strong and flexible you are.
It would also be worth while going to your naturopath to check out your diet and find out whether you're eating too much of some foods and too little of others.
However, if all you have is one or more of the low grade, personally-generated body system dysfunctions there's a lot you can do for yourself.
With the three great body system dysfunctions of our time are:
metabolic
musculo-skeletal
psychological
You'll know them by their symptoms.
The common symptoms of metabolic dysfunction are; elevated blood pressure, cholesterol and blood sugar levels, the accumulation of fat around your body, feeling depressed, tired and lacking in energy, stiffening up … You've got a diet and exercise problem.
A visit to the doctor may see you come away with a prescription for a drug to mask the symptoms. In some cases that may be appropriate; for instance, if your blood pressure was so high that you were about to blow a brain gasket, or your blood glucose was soaring through the roof.
Having said that, if you want to get healthy what you need is a prescription that outlines a course of action that you yourself can take, one that leads to the restoration of poor health to good. In fact, it's a big ask expecting to get better by having someone do something to you; sooner or later you have to do something to yourself. It's also a big ask expecting to answer the 'how to get healthy' question without improving your aerobic fitness. Becoming fitter is not something you can outsource.
Keep in mind that getting healthier is not a quick fix, it's a lasting fix and you may need to measure the rehab process in weeks, months, even years. It would be silly to expect to fix in a day, something that has taken 20 years to develop.
In a nutshell, to restore poor metabolic function to good, embark on a regular and systematic aerobic exercise program and change your diet. Do that and you give yourself what amounts to a metabolic defrag.
You can embark on a metabolic health program today. Walk for 20 minutes and eat good diet food from the top of the Hourglass Diet.
Over the days, weeks and months build the walk into a 40 minute run and you'll be as fit as a trout, lean as a greyhound and toey as a roman sandal.
I've measure obesity, blood pressure, glucose and cholesterol in thousands of people and there's no doubt that the healthiest people are those who exercise with vigor for 40 minutes a day. It doesn't have to be running, you can mix it up to include swimming, cycling and working out on the stepper or cross-trainer. To keep yourself honest, get a heart rate monitor and while you're exercising, aim to keep your heart rate over 70% of your maximum heart rate. (Maximum heart rate is said to be 220 minus your age.)
On the diet front, lay off the garbohydrates, fat and flour, fat and sugar and fat, flour and sugar. You won't die! You'll lose fat from around your body, you'll feel more energized. You'll have less headaches.
The symptom of musculo-skeletal dysfunction is lower back pain and other joint pain. The principle cause? Motion starvation. You don't move enough. If you don't have a decent strength and flexibility training program, you're becoming weaker and tighter by the day.
Your pain is definitely not due to a lack of Nurofen. On the contrary, the underlying cause of the pain is tight muscles dragging bones out of alignment and weak muscles failing to give your skeleton the support it needs to stay in alignment.
A good strength and flexibility training program will go a long way to answering the 'how to get healthy' question. To improve your flexibility you can't go past yoga, it's been around for thousands of years. There are strength exercises you can do at home and the gym.
If you had any sort of musculo-skeletal pain you'd be crazy not to start doing the exercises.
The symptoms of psychological dysfunction range from feelings of sadness, grief, anger, frustration, unhappiness …, down to being stressed out of your brain or feeling blue. These are normal healthy emotions to experience when things aren't going your way, but if the feelings persist, then the counsellor or a good personal development program may be just the shot to lead you out of the maze. Even a holiday may help.
Clinical depression is a different kettle of fish. Some of it may be physiologically generated. There's a spot in the brain, the limbic centre that can become dysfunctional if you don't get enough aerobic activity or have a diet lacking in omega 3 fats. The symptom of the dysfunction is depression.
Another cause may be something wrong with your thought processes, in which case you're in urgent need of some serious personal development training or counselling. Don't even think of replacing hours of counselling with a few minutes in the surgery.
Whilst depression may be more serious than that, my personal view is that before you end up at the chemists, get checked out by someone in the psychology industry, up your aerobic activity and omega 3 fat intake and take a 21 day away-from-home holiday.
The trouble with taking the chemical route first up is that once you start feeling better, your attention may get diverted from doing the things you need to do yourself to restore poor mental function to good. Plus getting off the stuff can be the devil's own job.
In the meantime stay tuned, highly tuned and remember, the secret of how to get healthy and stay healthy lies in what you can do yourself.