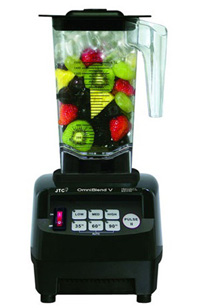 In 1861, Isabella Beeton published Mrs Beeton's Book of Household Management. It was a best-seller, selling close to two million copies by 1868. Mrs Beeton published the book in her early 20's. She died at age 28. The book lived on and on and on.
In an introduction to one of her recipes, she wrote, 'First slaughter your ox.'
If you're intending to make fruit and vegetable shakes as part of a get-healthy-and-lose-weight strategy, 'First, purchase a blender.'
The beauty of the modern blender is that it creates a slurry that still includes all the fibre. If you use a juicer on the other hand, most of the fibre gets chucked out, along with a lot of the nutritional goodness.
To get started on one of the best paths to healthy eating, chop up some vegetables and fruit and place them in the blender: apple, orange, banana, pear, carrot, berrys … you name it and you can incorporate it into the drink. You may need to add water or juice of some sort to loosen it up.
Here's a list of some of the things you can add to the mix:
ginger, good if you have an inflammation issue
celery to lower your blood pressure
dark, leafy greens that are high in calcium, like water cress
natural, unsweetened yoghurt to enhance your gut flora
 flax seed oil for your omega 3 fats
protein powder.
a couple of table spoons of psyllium husk. This super high fibre supplement will greatly enhance the function of your bowel. Psyllium husk is sold in the raw form and can be purchased in supermarkets and health food shops. It's also the main ingredient of Metamucil. Metamucil is psyllium husk, coloured, flavoured and twice the price!
What you do next is up to you. You can just drink it, or do what I do, pour it on some raw rolled oats. At the same time as it's filling me up, I know it's doing me good. In fact I can't think of a better breakfast.
So there you have it, a nutritional drink that gets into your body some of the essential nutrients that it needs to maintain healthy function.
They say that some people won't eat fruit unless it's cut up. I find that's the case. I much prefer cut fruit than, say, a whole apple or pear. Having a blended juice for breakfast overcomes that problem. I know I'm getting my daily dose of fruit and vegetables.
Instead of a diet shake out of a packet, do your body a favour and get into a routine of blending up the real thing.